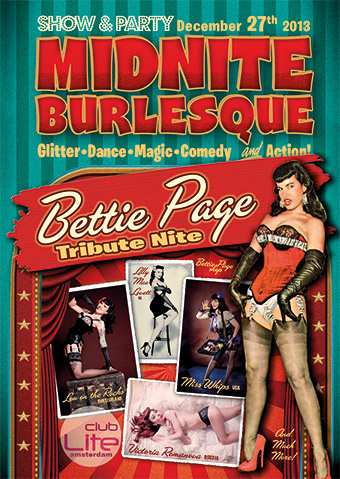 27 December 2013

MIDNITE BURLESQUE
Show & party. Mix of naughtiness, bawdiness, film-noir Glamour meets Rock and Roll!
Bettie Page Tribute Nite!

Bettie Page: The Queen of Pinups. Her jet black hair, blue eyes, and trademark bangs have influenced (burlesque) artists for generations. Miss Page was "Miss January 1955", one of the earliest Playmates of the Month for Playboy magazine. "I think that she was a remarkable lady, an iconic figure in pop culture who influenced sexuality, taste in fashion, someone who had a tremendous impact on our society," Playboy founder Hugh Hefner told the Associated Press.
In this edition of Midnite Burlesque all artists will pay tribute to this heroin of rock and roll subculture!
Get ready for a FUN-tastic, glamorous and sexy (with a big wink) night out. Groove to the Razzin'-Rat-Pack vintage and retro sounds played by the Retrolicious deejays.
We'd love you to DRESS UP! ...fancy, in costume, chique, suave, funny, funky, sexy, freaky, rock and roll, glamorous. Themes to consider: Golden Era Movie Star, Tropical, Vintage; Roaring 20's, Flashy 40's, Flirty 50's, Sexy 60's...even Risquée Renaissance! ... silent-movie, diva, glam, pin-up, masked, Hollywood ... Simply enjoy dressing up.
Dancing, Fun, Show, Bubbles & Entertainment!
Also:
-Bettie Page shop
-Daisy Lee burlesque accesories
-Best dressed competition
-Candy Girls
-Clothing stall by Hotrod Hussy
-Love shower
- Wild Romancer's hairdressers:
choose from different staple hairstyles.

SITE
MIDNITE BURLESQUE
WHEN
27 DEcember 2013 - 21:00-03:00
(2 shows between 22:30-00:30)
WHERE
Club Lite Jan van Galenstraat 24
Amsterdam Only 1 KM from Jordaan
Bus 18 - Tram 12 -Tram 13
COSTS
€ 15,- BUY YOUR TICKETS HERE
or at the door

PERFORMERS
Burlesque & Variety Stars;
Victoria Romanova (Russia)
Lou on the Rocks (Switzerland)
Miss Whips (USA)
Lilly Mae Lovett (NL)
La Nina, Sophie Fraise,
crème coquette brulee:
Collective exceptionelle (International)
Lily Sayang (Indonesia)
McFoxy (Canada)
Mistress of Ceremonies
Coco le Miel (Australia)

DEEJAYS
Ir. Vendermeulen (Amsterdam BeatClub)
Charley Rhythm (Burlesque FreakOut)





ORGANISED BY Madame Risquée