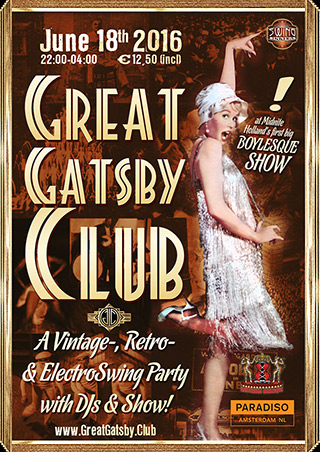 Inspiration:
18 June 2016

Great Gatsby Club
Great Gatsby Club: A Vintage-, Retro-, & Electro Swing party for Hepcats and Kittens.
Mister Gatsby himself will welcome you at this decadent, fun-tastic, glamorous and sexy (with a wink) underground all-nite event.
Deejay Charley Rhythm (Amsterdam Burlesque) and Dionysius (Retrolicious) will play (Electro)-Swing, Gypsy, Balkan, Exotica and other jivey music to dance to.
at midnite there is a unique show: the very FIRST Boylesque show in the Netherlands! That means all male burlesque show: performers like Raoulala, Mortimer Moonbender, Jelle Chin, Olifanttakeover Teatro and 'monsieur' Marmalade will take you back to the decadent times of the roaring 20's where sailors, dandies and gigolos skillfully drop their suits!
But -of course- later during the party there will be female acts by La Nina plus Fandancers, hootchie-cootchie gals, absinthe bar & candy girls can be expected
C'mon all you divas, mobsters & gunmolls, rascals & flapper babes: dress up Roaring 20s, flashy 40s. Think Great Gatsby, Charlie Chaplin, Boardwalk Empire, Betty Boop, The Godfather... Although everyone gets into the party, it enhances the atmosphere greatly if you make an effort dressing the part!
SITES: Great Gatsby Club
BoylesqueSHow.nl

WHEN June 18th 2016 22:00 - 04:00


WHERE
Paradiso
Weteringschans 6, Amsterdam
COSTS 12,50 At the door or HERE

PERFORMERS
Raoulala,
Mortimer Moonbender, Franky Lowatt
Jelle Chin, Monroe, La Nina, Lila Faline,
Olifanttakeover Teatro, Mr. Colins
'monsieur' Marmalade

DEEJAYS
Charley Rhythm (Amsterdam Burlesque)
Dionysius (Retrolicious)




ORGANISED BY Madame Risquée